Recent Posts
1
« Last post by Angelk on Today at 01:49:41 AM »
Sometimes you may delete some important Whatsapp call history from WhatsApp accidentally.
If you want to retrieve the WhatsApp call history that you deleted mistakenly or voluntarily, here is the way to go. In this article, we will show you how to retrieve deleted WhatsApp call history on Android in just the simple solution as follow.
Fonedog is a comprehensive data recovery tool that allows you to recover lost or deleted data from Android devices. Fonedog for Android is highly recommended by millions of Android users for data recovery, and it has helped 5,700,000 Android users successfully recovered deleted files.
With Fonedog for Android, your lost or deleted WhatsApp call history will be easily recovered in a quick process.
Step1: Download and Launch Fondeog Toolkit.
Step2: Choose desired files to scan.
Step3: Retrieve deleted Whatsapp call history from Android.
More Info:
Use WhatsApp Call History Recovery
2
« Last post by Angelk on Today at 01:45:04 AM »
Losing your smartphone contacts can be a stressful ordeal. Even if you handle your phone with care and attention, there are a few main reasons why you might lose your contacts:
• Your Android operating system is corrupt
• You accidentally delete your contacts
• A virus infects your smartphone or tablet
• You delete your contacts on purpose and then realize later that you needed them.
It can be quite annoying and inconvenient no matter you lose all the phone numbers or just one important customer's info. So there is any way that can help you recover deleted contacts from Android phone. The solution is Using Fonedog Toolkit to recover contacts with a few step:
Step1: Download and Launch Fonedog Toolkit.
Step2: Select contact files to scan.
Step3: Recover deleted contacts from Android.
Complete Guide:
Contacts Recovery
3
« Last post by carrubayerka on January 17, 2018, 10:08:24 PM »
One Plus phone is an Android phone, and just use an Android file recovery software, can help you regain deleted or lost data from this phone, just few clicks, and then you can easily get the simple method to recover data.
4
« Last post by mezicklivi04 on January 17, 2018, 09:57:18 PM »

When you delete the text messages from One Plus phone by accident, don't worry, the lost text messages can be recovered quickly, just few steps, and then you can get back these lost data. By using Android data recovery software, you can easily recover SMS on One Plus phone.
5
« Last post by jamy on January 17, 2018, 02:57:38 AM »
Zimbra Converter is a remarkable and powerful application to export Zimbra mailbox data to multiple formats such as PST, PDF, MSG, EML, MBOX and NSF with complete user profile database. It is a precise utility which also delivers the separate sections to export Zimbra Contacts and Zimbra Calendar into the desired format. Preview is one of the major functionality of the software which can be used for better Zimbra conversion. Download free
Zimbra Converter
software download version on any Windows OS version for evaluation and analysis.
6
« Last post by mezicklivi04 on January 16, 2018, 09:27:24 PM »
It is possible to
recover deleted videos
on a Samsung galaxy note 5 phone, the most efficient method is to use a Samsung data recovery software to help you, then you can quickly know how to do. it is powerful for recover the deleted files, including videos, photos, messages, contacts, books, music,documents.
7
« Last post by carrubayerka on January 16, 2018, 09:12:52 PM »
For a One Plus phone, you just need to use
Android SMS recovery
software, it can allow you to get back the deleted files on your phone, and it is a safe way, so you can keep the files in a secure place.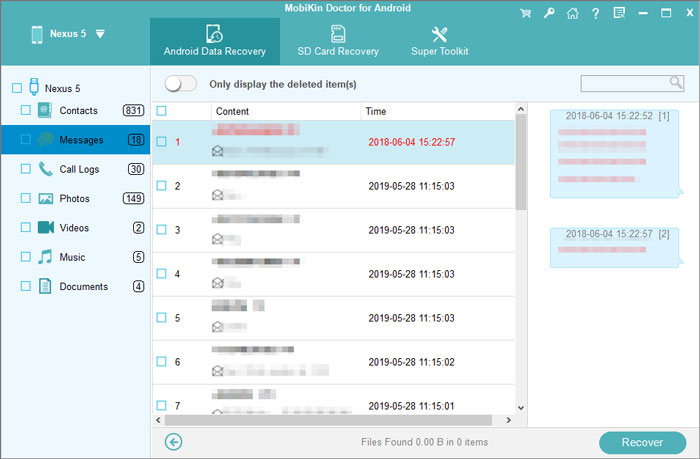 8
« Last post by wanderer1479 on January 16, 2018, 08:54:56 AM »
Enjoy beauty that winter brings, take a lot of pictures in the snow, or anywhere else, and then take a look at
Winter Photo Frames
! This application will give your photographs a dose of magic, and thanks to it you will have true masterpieces that everyone will admire. 24 photo frames are waiting for you, and you will have the ability to add photo effects and remove imperfections on your face.
The app is totally free of charge, get it here:
https://play.google.com/store/apps/details?id=com.cool.winterphotoframes
9
« Last post by Angelk on January 16, 2018, 05:40:21 AM »
There are three reasons why Android Phone messages are deleted:
1. Factory Reset: We have all done a factory reset to speed-up our sluggish phones.
2. Accidental Message Deletion: This one is perhaps the most common. We love deleting. Anything to clear the space. Messages with attachments are usually the first target.
3. Phone Crash: The rarest of the three scenarios. But Phone crashes and system failures usually come without knocking. They could be triggered by the virus or just a hardware malfunction. But it does happen. And when it does, sometimes messages get deleted.
When you a message is deleted it isn't wiped completely. The message still resides in memory sectors. It can be overwritten though by a new message.You can do three things to avoid permanent loss of messages from your Android phones:
Try to recover deleted messages as soon as possible as the longer the message remains un-recovered the harder it is going to be to recover the file later and the higher the chance that it will be overwritten.
To retrieve deleted messages from Android phones, you don't need to look farther than Fonedog – Recovery (Android).
Here are some simple steps to Fonedog recovery as follow:
Step1: Download and Launch Fonedog recovery.
Step2: Select desired files to scan.
Step3: Recover deleted message from Android.
More Info: What is
The Best Android Messages Recovery Software in 2017

10
« Last post by mezicklivi04 on January 16, 2018, 04:58:40 AM »
Actually, you don't need to spend much time on searching many ways to access your OnePlus phone lost SMS. Just follow this guide, you can easily get back the lost text messages on your device without any loss. Moreover, it is safe enough way for you to recover
deleted SMS
, just get it.